THE ROAD TO ELSEWHERE
2008 Short Story Writing Contest Anthology
Greetings! This is your captain speaking. We hope you are enjoying your journey to Elsewhere. We are currently cruising at an incalculable altitude, traveling at an immeasurable speed, and we are on schedule. Oops, did I say 'schedule'? In Elsewhere, there are no schedules. No timetables. No agendas. No calendars. No clocks. Time does not matter. We have no ETA, and no arrival date. But, that's okay. Elsewhere is always open. Every one of you will have a unique and different experience, so there is no need for the "herd mentality" there. There are no borders in Elsewhere. No fences, no boundaries, no "Keep Out" signs. You are free to roam wherever your imagination takes you. So, I urge you to sit back, relax, and open your mind. Allow nothing to hinder you as you explore that fantastic, unbounded, unbridled, wipe-open place called Elsewhere. Thank you for attention. This is your captain, signing off…. ISBN: 978-0-9742652-7-8
Warning: some adult language
Paperback
edition: $10.99 + shipping
Kindle
edition: $2.99

** FIRST PLACE **
*TRICIA SPENCER EMPTY SHOES
"Empty Shoes" is for my sister, Donna, who inspires the world.
"Empty Shoes" is the second Tricia Spencer short story honored as a finalist in Scribes Valley Fiction Competitions. Finalist, "Noses, Toes and Elbows" was recognized in 2005 and appears in the Scribes Valley anthology, THEY DO EXIST.
Tricia received the Best Nonfiction Book award for Tips, The Server's Guide To Bringing Home The Bacon – The Customer Speaks To Every Waiter, Waitress and Restaurant Manager in America! from the Southwest Writers International Manuscript Competition where the final winners were chosen by a Penguin Group editor. Tips… is available on Amazon.com and elsewhere and has become a training manual for restaurants and food servers around the country. The 2002 book received a second printing in 2006. Her short story, "Deviled Eggs," was a winner in both the L. Ron Hubbard Writers Of The Future Competition for Science Fiction and CrossQuarter Publishing's Paul B. Duquette Memorial Short Science Fiction Contest. "Deviled Eggs" is published in CROSSTIME, the 2002 science fiction anthology featuring the winners of the CrossQuarter competition. Her short story, "Miracle Man," was a winner in the 2005 Cloak and Dagger Mystery Writing Contest where the finalists were judged by renowned mystery author Jeremiah Healy, aka Terry Devane. In 2007, her nonfiction short, "Spirit Prayers For Joyful Living, A Gentle Path To Spiritual Well-Being" was published as an AMAZON SHORT on Amazon.com.
Tricia's life pursuits reflect her philosophy that variety is truly the spice of life. From food service to touring with the International Company of Up With People to creating and marketing her own line of wedding accessories to author, with a world of diverse and creative pursuits in between, Tricia has reveled in the highs and lows of self evolution and in the myriad of endeavors life has to offer. She is listed in "Who's Who of American Women", "Who's Who of Emerging Leaders", "Who's Who in The West", and "Who's Who in The World".
Born and raised in Central Illinois, she and her husband, Mark, now live in Southern California where they share their home with all manner of furry and feathered creatures. They also share a passion for the simple pleasures of life, like sharing a great meal or taking a drive through unknown territory. Visit her website at: triciaspencer.net
** SECOND PLACE **
*KANDICE POWELL TWO, ONE
Kandice Powell is a soon-to-be graduate of the University of Cincinnati, and a soon-to-be mother. This is her first published short story, and though her major and experience is in the Marketing field, she plans on continuing to write. Kandice is a soccer guru, and thoroughly loves every aspect of the game from playing to coaching. She also enjoys being active and outdoors, and trying new sports like surfing and snowboarding. In addition, she has high aspirations to travel around the world, and share her heart to serve in South Africa, and experience her passion for ancient history in Greece. Kandice is happily married to her husband Shannon, who is responsible for pushing her out of her safe-zone, and challenging her to see that the only limits on her capabilities are the ones she sets for herself. Kandice and her family live in Cincinnati, Ohio; home of the less than par professional sports teams. Kandice is truly thankful for the gifts she has been given, and being able to share them with others. Hopefully, you'll read more from her soon.
** THIRD PLACE **
*RONNA L. EDELSTEIN MA BATES
I am a daughter and mother, a teacher and student, a reader and writer. Although I have travelled extensively, I welcome spending my "golden years" in Pittsburgh, the city of my birth. I begin each day at the gym, only exercising on machines that allow me to read as I work out. Most of my days end at one of the city's many theatres where I volunteer as an usher. As a part-time faculty member of the University of Pittsburgh's English Department, I spend four days/week as a Writing Center consultant. This year I also have the pleasure of teaching Freshman Programs, a one-credit course that introduces students new to Pitt to the rich opportunities of both the University and the city. Despite my busy schedule, I always find time to spend with my close friend and roommate – my 92-year-old father.
I thank Dad for teaching me that a cold chocolate phosphate in the summer and a hot cup of Ovaltine in the winter can ease all problems, Jonathan and Ilana for reminding me that the past does not have to define the present or the future, and Ma for allowing me to make real her teaching and writing dreams.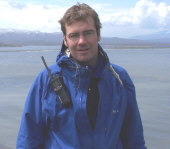 *DEVIN MURPHY NEWTS
After winning third prize in Glimmer Train's Short Story Contest for New Writers in 2007, Devin Murphy has since had stories published in Many Mountains Moving, R.kv.r.y Quarterly, Glossolalia, and 303 Magazine. He is currently an MFA student at Colorado State University. Prior to that he spent three years working on expedition ships that traveled the globe.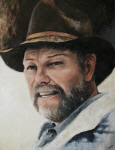 *TERRY DICKINSON THE FUNERAL DINNER
Terry Dickinson grew up in a parsonage in several northern Michigan rural communities, earned a BS degree in math and physics, briefly taught high school math, and then worked most of his adult life as a visual artist before trying his hand at writing. His story of raising an orphaned fawn in the aftermath of his wife's death from cancer appeared in Country Extra. He has since remarried and at sixty-six he and his wife live near Traverse City, Michigan and are remodeling the old farmhouse once owned by his late aunt and uncle.
The story, "The Funeral Dinner", emerged from years of observing the collision of values inherent in groups that profess to be loving and compassionate and at the same time isolate themselves into groups of "us" whose efforts for purity gives license to condemn "them". Further influencing the narrative are several friends who are gay and I have observed their struggles for self-acceptance, their defense against shame, and the subtle and often unintentional ways that good, well-meaning people reinforce that shame. Then add to that mix the hypocrisy of those whose sexual interest are at odds with their religious teachings and how that secret corrodes something important inside and leave a person disconnected from the self. Funerals often force families together who might otherwise avoid each other, providing the perfect stage on which to explore the tension between keeping a secret or coming out.
*BILL WESTHEAD THE RESTORER
This is Bill Westhead's fourth time as a finalist in the Scribes Valley Short Fiction Contest. His previous stories 'Romeo and Sierra's Last Mission,' 'Cruel Justice,' and 'Adventure in the Caucases' were finalists in 2005, 2006, and 2007 and published in the anthologies of those years - They Do Exist!, Mind Trips Unlimited and Destination Elsewhere.
Born in England he and his family emigrated to Waycross, Georgia in 1973. With their children having fled the nest to start their own families he and his wife continue to live in Waycross with their dog, Ben. and cat, Oscar.
A member of Southeastern Writers Association and Coastal Writers Group he has published four historical novels Once in Old Frederica Town, Confederate Gold, Clogs and its sequel The Mill. His work has also been published in 'Cricket', 'Animal Tales', 'Chicken Soup'series, the O, Georgia! anthology, 'Crafts 'n Things' and several trade magazines. Apart from novels and short stories he also writes a monthly theatre column, 'Footlights', for area and local newspapers.
He has completed his fifth book Not My War, a memoir of his time as a child in England during World War II and is currently in discussion about the book with a publisher.
When not writing he divides his time between his Bonsai collection and the Waycross Area Community Theatre.
He can be contacted at westhead@accessatc.net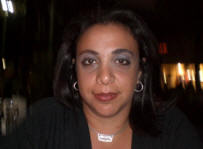 *ATOSSA SHAFAIE WOMAN TO WOMAN
I was born in Tehran, Iran. The revolution caused my family to move to London, England and then to the United States. I have a B.A in English Literature from George Washington University and am currently working on my first manuscript entitled Blood of Persia, a historical fiction about Cyrus the Great, founder of the Persian Empire.
*BERNARD HOFLER REGRET
Bernard is a resident of northeastern North Carolina. "Regret" was written for a young woman by the name of Lisa Maguire and is the first of his short stories to be published.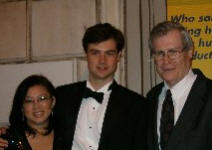 *DAN SULLIVAN FORTY
Dan Sullivan (on the right in the picture) teaches English literature and composition at St. Mary's Ryken High School in Leonardtown, Maryland. Dan has had three short stories published to date; the last placed second in the 2006 Scribes Valley Fiction contest, but he is most proud of his family--his wife Jamie, his daughter Laura, his son Mark, his two granddaughters Kyleigh and Erika, and his step-daughter Ploy who lives in Bangkok. Pictured with wife Jamie and son Mark (nominated for a Helen Hayes Award in Washington DC. in 2006 for his starring role in After Ashley).

*MELISSA TANTAQUIDGEON ZOBEL THE DECORATOR
Melissa Tantaquidgeon Zobel is the recently appointed Medicine Woman of the Mohegan Indian Tribe. The former Medicine Woman, Dr. Gladys Tantaquidgeon, passed away in 2005 at the age of 106. Gladys trained Melissa in tribal oral tradition, and spiritual beliefs. After receiving a B.S.F.S. in history/diplomacy from Georgetown University in 1982 and an M.A. in history from the University of Connecticut in 1984, Melissa traveled throughout New England as a storyteller for the Tribe. She also served as Vice Chair of the Mohegan Tribal Council in the mid 1980's and a member of the Council of Elders in the 1990's. Since the mid-1990's she has been heavily involved in cultural theming and design work for Mohegan Sun Casino.
She has written several books, including Medicine Trail: The Life and Lessons of Gladys Tantaquidgeon (University of Arizona Press, 2000) and Oracles: A Novel (University of New Mexico Press, 2004). In 1992, she received the Native Writer's First Book Award for a tribal history titled "The Lasting of the Mohegans," and in 2002, she won an Emmy for her work on the historical documentary, "The Mark of Uncas."
Melissa is currently employed as the Executive Director of the Mohegan Tribe's Cultural and Community Programs Department. Her department operates the Tantaquidgeon Indian Museum, the oldest Indian owned and operated museum in the United States of America.
Melissa and her husband, Randy, live in Old mystic, Connecticut. They have five children, Rachel, Madeline and David Uncas Sayet, and Kaitlyn and Emily Zobel. Emily is the youngest and she provided the inspiration for this short story.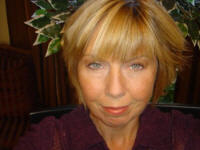 *VICKIE CLASBY JUNE AND STEVE
Vickie Clasby resides in suburban splendor with her husband, thirteen-year-old daughter, eleven-year-old twin sons, two cats and a crazed Husky mix dog. She works as a business analyst for a major healthcare company. After completing a BA in English, she taught Freshmen Composition for what seemed like years but was in fact only months. Realizing she was not well suited for academic life, she worked at various jobs before returning to school, passing the CPA exam and beginning a career which does not embarrass her family, who hoped she'd get this writing thing out of her system. Her life is filled with corporate drama, domestic chaos, and endless writing material.
Vickie writes short stories, essays, and novels. She is a member of the Tennessee Writer's Alliance and the Williamson County Council for the Written Word. This is her second time as a finalist in the Scribes Valley Short Fiction Contest.
*JEAN TSCHOHL QUINN AND WHY IS THAT AGAIN?
Jean Tschohl Quinn started writing fiction a short time ago somewhat unexpectedly. This story will be her third published work. Her first was Waiting to Want in last year's Scribes Valley anthology, Destination Elsewhere. California Fairy Story is included in the soon-to-be released New Writings in the Fantastic II by Pendragon Press. Having been on her six-month maternity leave for over twenty years, she spends her time serving the Baha'i community, facilitating Virtues Project trainings, and organizing an annual conference on how to infuse community life with the age old custom of singing together. She also plays piano and sings in both a jazz duo and a Latin ensemble. Not shabby for a mathematician with a reading disability. She lives with her husband, three daughters and two dogs in the Redwoods along the Central Coast of California.
*KAYE SEBASTIAN TRUTH AND CONSEQUENCES
Kaye Sebastian is a Philadelphia, PA-based writer whose passion is thriller fiction. She credits Scribes Valley with sparking her interest in "short stories with a twist," which developed through her submissions to the U-Write-It Online Challenge. Kaye's flash fiction story "The Collectible" received an honorable mention in the Writers Weekly 24 hour short story competition in July 2008 and her story "Six Minutes" is featured in the summer 2008 issue of Mysterical-e mystery e-zine. Her Scribes Valley entry, "Truth and Consequences," has its roots in real-life. Kaye belongs to the Chestnut Hill Writer's Group. At present, she is venturing into a new genre as she works on a screenplay based on one of her flash fiction stories.
*CHANDRA PRATER HONEYSUCKLE DREAMS
Chandra Prater lives in Tennessee with her husband and two teenage sons. She enjoys reading anything she can get her hands on, writing and traveling the country with her family. This is the first of her short stories to be published.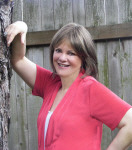 *HANNAH GREER MARIA'S GIFT
Hannah Greer has embraced writing since she was a child. As an educator and founder of an experiential school, she guided underachievers to utilize their imaginations. Seven years ago she cofounded Chrysalis Experiential Academy, Inc. in Roswell, Georgia. The students have written anthologies of their writing every year and the school has produced many budding authors. Community members are encouraged to submit their art and stories, as well, and two of the anthologies have been published in both English and Spanish. Hannah loves to write. You can visit her website, www.hannahgreer.com, to see her latest published fiction.
*MIMI SHARPE BETWEEN A ROCK AND A HARD PLACE
I was born in Syracuse, New York, lived in Kansas for a time during childhood, and settled in Northern California since 1961. After graduation from high school in 1970 I attended Ohlone College in Fremont and later attended business school in Hayward and the Academy of Art in San Francisco. I have always been artistic and worked as a freelance artist for some years, focusing on pen and ink and oil pastels. I have had a few gallery showings in the Bay Area. I moved to Sacramento in 1977 and have loved it here ever since! A beautiful river city with lovely landscapes and wonderful people. I have been writing creatively since I was 8 years old – poetry and short stories. Though I still pursue my art and continue to write poetry and short stories, I have worked as an executive assistant for a lobbying organization for all the cities in California since 1985. I have been married for 25 years and have a 23 year old daughter who is currently attending college at Sacramento State University. In addition to drawing and writing, I enjoy cycling, singing, and reading. I'm known in my family as the "literary snob" due to a distinct bias toward 19th century English literature. But I love to read both fiction and nonfiction (mostly politics, history and philosophy). I am rarely seen without a book in my hand. During the time I was raising my daughter I stopped writing, but now have more than enough time to dedicate to that activity. My favorite authors are George Eliot, Thomas Hardy, Anthony Trollope, E.L. Doctorow and Richard Russo. My favorite short story writer is Alice Munro.

*LEEANN DICKSON SENIOR DISCOUNT
LeeAnn Dickson lives and works in Northern California. She is married to a wonderful and patient man and their family includes two Golden Retrievers and two neurotic cats.
In addition to her real job, she is a free lance writer working for a Sierra Foothill's regional magazine.
She is a life long story teller and loves to write about past adventures. "Senior Discount" is a true story.

*PAULINE A. SALVUCCI AFTER THE DREAM: A MODERN FABLE
Pauline A. Salvucci was born in Massachusetts and resides in Westbrook, Maine with her rescue cat, Jack Kerouac. Her first career as a high school English literature and composition teacher was followed by a 25 year career as a licensed psychotherapist in private practice. She enjoys painting, jazz piano and reading. "After the Dream: A Modern Fable" is Pauline's first short story. She is currently working on its sequel. Pauline is also a jewelry designer and maker. Her jewelry is sold in retail stores in Maine.