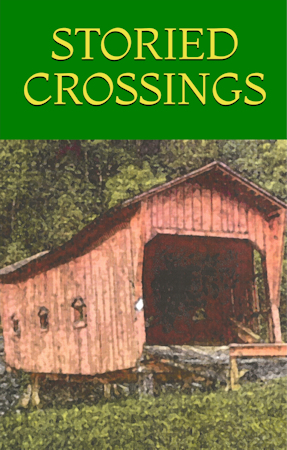 STORIED CROSSINGS
2003 Short Story Writing Contest Anthology
For most human beings there are two worlds. The first is the normal, everyday world filled with rules, regulations, and alarm clocks. The second is the boundless world of the imagination, where anything goes, rules do not apply, and "normal" is a bad word. Storied Crossings is a bridge between these two worlds. Everyone is welcome to cross; however, no inhibitions are allowed, an open mind is required, and you must allow yourself to be swept away. Twenty short stories are waiting inside to amaze, amuse, delight and entertain you. Enjoy your stay between the covers, and don't worry about coming back to the real world. It'll get along just fine while you're gone.
ISBN: 978-0-9742652-0-9
190 pages
Warning: some adult language
Paperback
edition: $10.99 + shipping
Kindle
edition: $2.99

** FIRST PLACE **
*ROBERT PAUL BLUMENSTEIN WE COME TO SING
Robert Paul Blumenstein resides in Richmond, Virginia, where he was awarded an MFA in playwriting from Virginia Commonwealth University. He is a full-time writer having written not only for stage and film, but also has a published novel, Flirtin' with Jesus, the first book of The Ascension Trilogy. The second book of the trilogy will be released in 2002.
** SECOND PLACE **
*FRANK REYNOLDS THE INVITATION
A Scotsman, Frank Reynolds taught English and Italian at colleges both here and in Europe. He writes a Scottish History column for a British magazine, and edits a college newspaper. He moved from the San Francisco area to a cabin in the Sierra foothills in 1995, where he tutors English and Italian professionally at the local college, and writes whenever he can.
** THIRD PLACE **
*TESSA JONES SOLDIERS AND DANDELIONS
Tessa Jones, originally from Miami, Florida, has been fascinated by the human psyche for as long as she can remember. Along with "Soldiers and Dandelions", Tessa has also completed a novel entitled "Fragments", a psychological thriller about a woman with Dissociative Identity Disorder (formerly called Multiple Personality Disorder). She is hard at work on her second novel, "Redemption", about a female serial killer. Tessa has previously sold one short story, The Weaver to an online publication.
*BETTYE D. GROGAN MISS WILLA WEMBLY
Bettye is a native Kentuckian, is married, a mother of three, and a grandmother of seven. She and her husband, both recently retired, stay busy with gardening, church, community activities, and (most important to Bettye) she now has time to write! Bettye also belongs to state and local writing organizations. She wrote her first story at age eleven and has since written books for children, poetry, songs, and a short novel. Bettye thanks her Hoptown Writers colleagues for keeping her enthused and writing.
*PAUL PERRY CLOSE TO HOME
Paul Perry has been writing short fiction for thirty years with more than 150 stories published, most of them in literary magazines. He had a collection of 24 short stories entitled Street People published in October, 2000, by Pocol Press of Cliftron, VA. Paul, in his late teens, spent most of two years living on the streets and he mostly writes about homeless people, hitchhikers, prostitutes, outsiders, people Paul refers to as "Dispossessed People."
*ELAINE ELIZABETH PAPP CELEBRATION OF LOVE
Married for over 30 years to her first love Richard, Elaine enjoys writing about a romantic innocence rarely found in today's fast-paced world. Her two grown sons and their wives have unknowingly been the source for many a short story while she is counting on the antics of Jonathan, her first grandchild, to inspire many more. Having lived for the past five years in Washington Crossing, Pennsylvania, Elaine and her husband enjoy bicycling at the Washington Crossing Historic Park and along the Delaware-Raritan Canal. "Celebration of Love" is her first publication.
*CRAIG RONDINONE THE DEAD ZONE
Craig Rondinone is a syndicated fantasy sports columnist for SportsTicker, a sports news service located in Jersey City, New Jersey. His weekly columns have appeared on web sites for ESPN, Sporting News, Yahoo and Excite. Craig lives in Brick, New Jersey and enjoys the finer things in life (pro-wrestling, soft tacos and deep thinking).
NEW - Craig's new book Ten Tales to Make Your Head Explode (PublishAmerica) is now available from the publisher and will be in bookstores March 2004.
*CHRISTOPHER T. BOWNE THE WITNESS
Christopher was born in 1973 in Newport Beach, CA. In his youth he spent a lot of time drawing, ignoring his studies, and obsessing over movies, girls, music, and skateboards. He holds a degree in Mathematics from UC Berkley. He began writing diligently last year after a 10-year hiatus. He now works in San Francisco and resides in Oakland.
*JESSICA HENCH THE ARTIST'S STUDIO
Jessica Hench, originally from Suffield, Connecticut is a student at Roanoke College in Salem, Virginia. She is an English major pursuing teaching certification. While this is her first short story, she has had several poems published and hopes to publish novels and children's stories in the future.
*CHARITY TAHMASEB DIARY OF A SEDUCTION
While working fulltime as a technical writer, Charity Tahmaseb also writes short and long fiction. Her first published short story appeared in the April 2000 issue of Futures magazine. Her story in the December 2000 issue of Futures placed third in their "Fire to Fly" contest and was recently nominated for a Pushcart Prize award. Charity lives in Minnesota with her husband Bob, son Andrew, daughter Kyra, and Dalmatian Toby.
*CHARLES L. MCDERMOTT HITTING ON WOMEN
Charles L. McDermott, born and raised in Mobile, Alabama, began verbally composing stories even before starting school, where disrupting classes became a vocation for him. His elementary years required six different schools: three due to family relocations, the other three because he was "asked" to relocate. Things improved in high school, however, and Charles received honors and a Chemistry Degree in college. He went to Vietnam and was shot at. Fortunately the bullets missed. It was then back to college for an MBA, and for the last eighteen years he was employed as a civilian at an army base near his hometown of Aberdeen, MD. His wife, tiring of his talking about story ideas and claims that he could write, bought him a computer and unloaded a shoebox of story ideas. To date, Charles has written thirty-two short stories, five novellas and final drafts of two novels. Women play a prominent role in his writings, displaying sweetness and sadness, while wrapped with tons of spice. His short story Why I Want to be a Woman was published by Writer Works in the spring as part of a short story collection.
*ELIZABETH BENTON APPELL SWIMMING TOWARD THE BUTTERSCOTCH MAN
Elizabeth writes screenplays, plays and novels as well as short stories. Her first play, "Confessions of a Catholic Child" was a finalist in the Writer's Network Fiction Contest in Los Angeles, chosen for staged reading by The Long Beach Playhouse, finished fifth in a field of 9,000 in the 1998 Writer's Digest Playwriting Competition, and optioned by a Canadian producer to create a one-hour film based on the play. Her second play, "Moon Walkers" finished second out of a field of 300 in the Do Gooder Productions New Playwright Award Competition, was recognized as a semi-finalist in Writer's Network 1998 competition, was part of New Theatre Works Festival 99 in Santa Rosa, became a semi-finalist in the Writer's Network Screenplay & Fiction Competition and placed in the top ten plays out of a field of 19,000 in the October 2000 Writer's Digest Writing Competition. Her "Journal of a Common Man," won Dominican University's Festival of Short Plays. Elizabeth's novel, Lessons From the Gypsy Camp was published by Scribes Valley Publishing in March 2004.