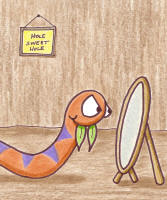 Excerpt from Woodrow's Waggish Wish
He went to the library and checked out a book
that showed exactly how most snakes look.
There were big snakes and snakes that were tiny,
snakes that were dull and snakes that were shiny

Woodrow studied each and tried to find
just the right type and just the right kind.
Finally, "This is it!" he said with a snort,
"I'll change myself into the rattlesnake sort."